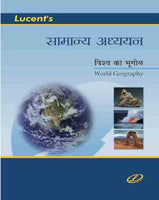 "This book is useful for Union Public Service commission, State Public Service commission, Staff Selection Commission, UGC-NET/JRF, SSC, Railways, Bank (P.O/Clerk), CDS; N.D.A; SCRA; MBA, CAT, MAT, States TET, State Police, Income Tax & Excise Inspector, Section Officer, Tax Assistant, All Universities' Colleges and other competitive examinations."
The subject matter of this book is comprehensive and simple. Even an average student will find no difficulty in understanding the topics–Geographical thoughts & Branch,  Astronomical Geography, Geomorphology & Physical Geography, Climatology,  Continental Geography,  Human Geography, Economic
 Geography, Environmental Geography. The previous questions of twenty five years have been arranged properly with answers in this book. This book is based on the new pattern of NCERT. The author has compiled authentic data and maps.
Pages:458 
Language: Hindi