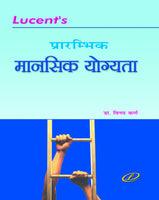 "This book is very useful for those who intend to start preposition for Jawahar Navodaya Vidyalaya/Sainik School Entrance Tests or NTSE, National Scholarship Exam, Staff Selection Commission (SSC) Exam, Railway Recruitment Boards (RRBs) Exam, Banking (CRB/IBPS) Services Exams, Insurance Sector (LIC/GIC/OIC etc.) Recruitment Exams etc."
This is a start up book of Preparation of Mental Ability/General Intelligent or Test of Reasoning for any Competitive Examination right from JNV/Sainik School Entrance Test to the higher level qualifying examinations, viz. National Talent Search Exam. (NTSE), NRSE, NSE, SSC Exams, RRB Exams, Banking etc. This book has been written to introduce a novice to the basics of Reasoning in a simple manner. The language of the book is lucid and easily graspable. The content of this book is balanced and focused to cover the subject-matter. The book is divided into two parts––'Bhashik' (Verbal) and 'Abhashik' (Non Verbal) having twenty (20) chapters altogether.
Readers of this book may get double benefit–'One'––the basic knowledge of Reasoning or Mental Ability as a subject and 'Two'––help of exercise to prepare for the competitive examination.   
Edition: 6th 2022 
Pages: 314
Language: Hindi