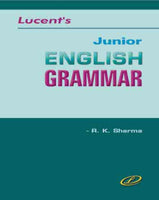 "This book  is useful for All States School Examination (Class V to VIII)."
The subject matter of this book is comprehensive and exam oriented. Even an average student will find no difficulty in understanding the various topics— Parts of Speech; Noun; Pronoun; Adjective; Verb; Adverb; Preposition; Conjunction; Interjection; The Same Word Used as Different Parts of Speech; Number; Gender; Case; Person; Sentence; Degrees of Comparison; Articles; Forms of the Verb; Tense; How to Change into Negative; How to Change into Interrogative; Subject-Verb Agreement; Infinitive, Gerund and Participle; Various Usage of Prepositions; Voice; Direct and Indirect Speech; Usage of Punctuation Marks; Usage of Capital Letters; Word Power Made Easy.
      The questions have been arranged and framed with chapterwise direction. The author has also tried to present this book in new style and compiled the previous questions of all states school examination (class I to VI). It will also help the students to understand the topics easily and also help them to pass in the school examinations. 
Edition: 9th 2023
Pages: 218
Language: English / Hindi