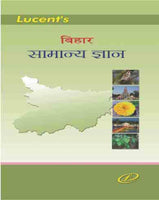 " The book is exclusively important and useful for those who are preparing for competitive exams., viz. – BPSC, BSSC, Bihar TET SSC- CGL, LDC, Data Entry Operator, Multitasking, Section Officer, Tax Assistant, Income Tax & Excise Inspector, Stenographer, CPO, CISF, CRPF, Railway Recruitment Boards (RRBs), TGT, PGT, Bihar Police, Secretariat Assistant, UPSE etc. and for many other exam."
This book is all about Bihar in a nutshell. This book has been compiled for the purpose to cater to the need of students and candidates preparing for different competitive examinations. Besides this book is also useful for those who are eager and inquisitive about Bihar. This general knowledge book on Bihar helps students stay updated with recent important developments of Bihar. The content of this book is exhaustive but systematically arranged .
The book is divided into 11 chapters - 1. A Brief Introduction of Bihar 2. History of Bihar 3. Polity of Bihar 4. Geography of Bihar 5. Census of Bihar 6. Economy of Bihar 7. Class conflict, Poverty Alleviation and Women Empowerment in Bihar 8. Tourism in Bihar 9. Art and Culture of Bihar 10. Eminent Persons of Bihar 11. Miscellany. The last chapter of the book is a collection of conventional general knowledge of Bihar with Table and up to date information. 
Thus this book has a variety of topics covered in various examinations held in the state of Bihar or in India. This book will certainly enhance the general knowledge of its readers and students about Bihar.
Authors:Dr.

Binay Karna

Edition :10th - 2023

Pages: 362
Language: Hindi