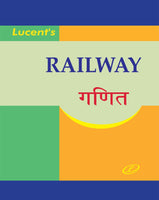 "This book is useful for RRB, Commercial Apprentice (C A), Traffic Apprentice (TA), Enquiry-Cum-Reservation Clerk, Goods Guard, Junior Accounts Assistant-Cum-Typist, Senior Clerk-Cum-Typist, Assistant Station Master (ASM), Traffic Assistant, Senior Time Keeper, Electrical Signal Maintainer (ESM), Assistant Driver, Loco Pilot, Technician, JE, RRC Group 'D' Delhi Metro and other competitive exam."book "This book is useful for Navodya Vidyalaya Entrance Examination."
               The subject matter of this book is comprehensive and exam oriented.
Even an average student will find no difficulty in understanding the various topics—Simplification, Problems or Numbers, LCM & HCF, Decimal Fractions, Problems Based on Age, Average, Ratio & Proportion, Square and Square Root, Cube and Cube Root, Surds and Indices, Percentage, Profit and Loss, Discount, Time and Work, Time and Distance, Problems on Trains, Boats & Streams, Pipes & Cisterns, Alligation, Partnership, Simple Interest, Compound Interest, Area, Volume, Geometry, Trigonometry, Height & Distance, Race, Pie-Chart and Graph and Tabulation.
The question have been arranged and framed with answers with hot tricks and dynamic approach to solve the questions in the least time.  The author has also tried to present this book in new style and compiled the previous questions of fifteen years of railway examinations. This book is based on the new pattern of railway requirement board examinations. It will also help the students to understand the topics easily and also help them to qualify in the competitive examination. 
Pages: 314
Language: Hindi