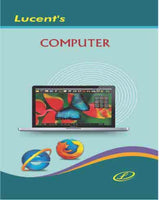 This Book is useful for every reader in general and also for the students who is preparing for the various competitive exams like, IBPS Clerk & PO, RBI, SBI PO & Clerk, SSC, IAS, UPPCS, Chhattisgarh PCS, Utranchal PCS, SSC Tier-1, SSC CGL, SSC LDC, Jharkhand Sachiwalaya, etc.
            This book covers a wide range of question and answer related to computer software & hardware in a single concise volume. The subject matter has been described in concise and simple language. Even an average student will find no difficulty in understanding the various topics.
            The questions have been arranged with full description and also with answers. The author has also tried to present this book in new style and stepwise directions, which will help the student to understand the topic easily and also help them qualify in the competitive Examinations. 
Authors: R. Ahilya
Edition: 13th 2023
Pages: 228
Language: English